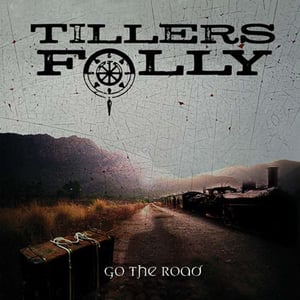 $

12.00
The album consists of 12 brand-new songs penned by Tiller's guitarist/vocalist Bruce Coughlan, a seasoned songwriter, deeply rooted in western folk music traditions.
The title song was inspired in part by Ewan MacColl's brilliant song, Freeborn Man. Go the Road is a phrase borrowed from Frank Delaney's magical book Ireland. The term describes the life of an itinerant storyteller who wanders the countryside, staying with people who will feed him and give shelter in exchange for telling stories.
The story mirrors in many ways, Bruce's own. Having left home at an early age, Bruce turned to busking on the streets of his native Vancouver, Canada. Since that time, he's literally gone the road, performing, touring, and always, always writing. Now, after more than three decades of pursuit, Bruce has emerged as a unique and powerful voice in the roots music genre.
It again features Bruce with long term Tiller's Folly mates Nolan Murray and Laurence Knight and the most impressive cast of guest artists yet for Tiller's Folly
The final list of confirmed guest artists reads like a whos who of acoustic music:John Cowan (Newgrass Revival/Doobie Brothers/John Cowan Band), Sam Bush (Newgrass Revival/Sam Bush Band), Josh Shilling (Mountain Heart), Ronnie McCoury (Del McCoury Band/The Travelin McCoury's), Cia Cherryholmes (The Cherryholmes), Scottish Music Hall of Fame member Phil Cunningham (Phil & Ali), heralded singer/songwriter/producer Wendy Waldman, Scott Vestal (Sam Bush Band), Jeff Autry (John Cowan Band/The Travelin McCoury's) and Randy Kohrs (Randy Kohrs Band/Jim Lauderdale/Dolly Parton).
"Go The Road", an all-acoustic album, continues the bands musical move in a refreshing new direction and promises to introduce them to new audiences in the bluegrass, folk and Americana markets. The first single, "Death and Taxes" features John Cowan and Josh Shilling along with Tiller's Bruce Coughlan sharing lead singer roles and is currently serviced to radio worldwide via AirplayDirect.com.